All-Coast Forest Products is an independent wholesale manufacturer and distributor of quality lumber products and building materials, delivering exceptional service.
Overstock and inventory closeout items
Wholesale Distribution
Sales Delivery Area
All-Coast schedules regular distribution to our network of retailers throughout northern and central California and northwestern Nevada.
Shipping
We can ship orders of any size, from a single piece of custom-milled specialty wood to multiple truckloads of lumber. We maintain the flexibility to get you the products you need, when you need them. We process calls throughout the day and our expert staff will get your order on its way, on time.
Just-in-time Milling
Milling orders are processed quickly to meet our customers' needs.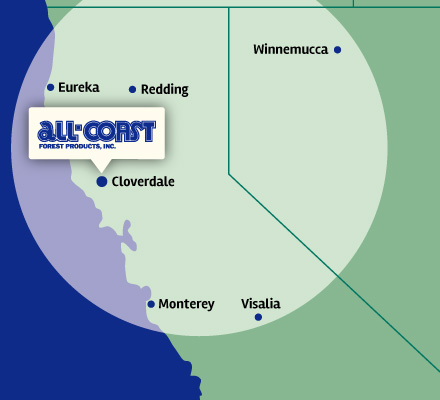 Manufacturing
We make no exceptions to our standards for product quality. We only source grade-certified materials for our custom manufactured products.
Our certified lumber graders assure you get the exact quality grade lumber products you specify.
Information
Environmental Statement
All-Coast supports the balanced and prudent use of natural resources, one that yields social, economic and environmental value for all people. All-Coast supports those suppliers who use sustainable forest management practices and execute sound environmental stewardship. All-Coast commends and supports those vendor-partners who seek to certify their forest practices and products. All-Coast recognizes the variety of different, credible sustainable forestry management systems and policies existing today. All-Coast is confident that the current forest practice regulations, environmental stewardship and sustainable forest practices being applied by its vendor-partners today will yield long-term social, economic and environmental value.
California Prop 65 Warning
The State of California (OEHHA Prop 65) has classified wood dust as a chemical known to cause cancer in humans. Wood dust can also cause a flammable or explosive hazard. Sawing, sanding and machining wood products can produce wood dust.
• Avoid dust contact with an ignition source  • Recover dust for disposal  • Avoid prolonged breathing of wood dust and contact with the eyes and skin
About All-Coast
All-Coast Forest Products is a family-owned company founded by Daryl L. Bond in 1975. At the heart is a 97-acre distribution and manufacturing facility in Cloverdale, California, in the wood basket of northern California.
Commitment to our Customers
We're committed to exceeding our customers' expectations — across the board. All-Coast supports your business by not competing with you for customers, and as a wholesaler we will not sell directly to your customers. We're constantly seeking ways to innovate and add value for our customers so they will prosper from doing business with us.