All-Coast Forest Products is an independent wholesale manufacturer and distributor of quality lumber products and building materials, delivering exceptional service.
Overstock and inventory closeout items
Wholesale Distribution
Sales Delivery Area
All-Coast schedules regular distribution to our network of retailers throughout northern and central California and northwestern Nevada.
Shipping
We can ship orders of any size, from a single piece of custom-milled specialty wood to multiple truckloads of lumber. We maintain the flexibility to get you the products you need, when you need them. We process calls throughout the day and our expert staff will get your order on its way, on time.
Just-in-time Milling
Milling orders are processed quickly to meet our customers' needs.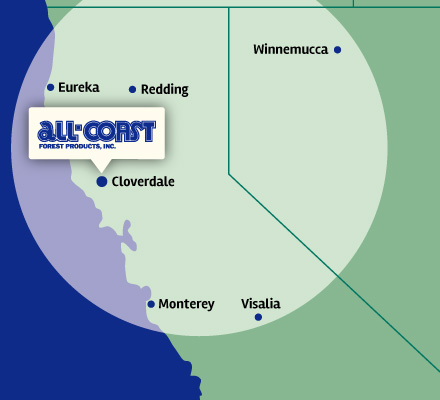 Manufacturing
We make no exceptions to our standards for product quality. We only source grade-certified materials for our custom manufactured products.
Our certified lumber graders assure you get the exact quality grade lumber products you specify.